Bio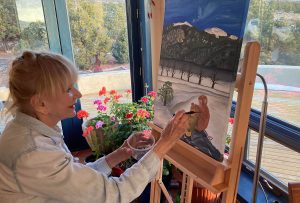 Yes, I reversed early symptoms of Alzheimer's (I have the gene!) with my program of daily practices that I began in 2004 and share with you in two award-winning volumes of "The Secret Method for Growing Younger."
A book I edited and participated in, "LATE BLOOMERS: The Movement," is not just a collection of beautiful poetry and prose by diverse, gifted Taoseños aged 57 to 82. This book gives voice to a Movement that's happening by inspiring others who are 50+ to pick up pen or paintbrush or tap shoes or flute or cooking utensils or you name it, and begin expressing! In my newspaper and magazine columns, I infuse humor into tips to live happy or I just muse about daily life.
I started painting the last week of November, 2020. Of course, I wouldn't presume to compare my talent to the famous artist, Grandma Moses. But just out of curiosity, I Googled her to see how old she was when she began painting. 76! She started at 76 years old, having dabbled at it when she was a little girl. I started at 84, having dabbled at it in my 20s. It's exciting!
About my Art
After I sold my vacation rental property in Taos during Covid-19, I found myself with extra time to do what I want. And what I wanted to do was paint! An old fear of not being good enough almost stopped me but I pushed through that, bought some canvases, paintbrushes and acrylic paints, used tops of plastic spinach tubs for palettes and started in. What a blast! My soul was thrilled and I painted every dog in our family plus a good friend's cat and gave those paintings away.
When I begin painting, sometimes my imagination goes wild and absurd images creep into a perfectly sensible picture. For example, who ever heard of tropical monkeys living in a tree in snowy Questa, or a kangaroo jumping on the furniture in my living room here in northern New Mexico, or angels with rolling suitcases? 
For some unknown reason, my muse insists I put a heart in each of my paintings.
If you'd like a FREE mp3 of track 3 of my Affirmations CD to listen to and then repeat, just send a request to ellen@howtogrowyounger.com
Contact Info
Sign up for my newsletter!
Ellen Wood
Columnist, award-winning author and painter