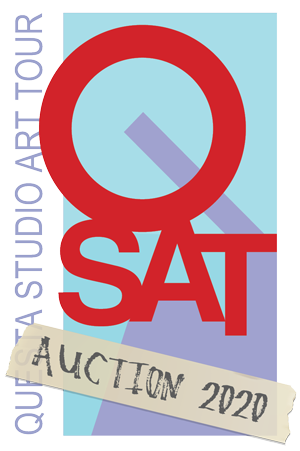 The Questa Studio Arts Tour (QSAT) was begun in 2015 by painter and jeweler Roger Harrington, of ArtQuesta Gallery, and local painter Peggy Trigg, a featured artist at galleries in Taos and Santa Fe. These dynamic locals noticed the growing number of artists settling in the area, and took note of the need of long-time resident artists to connect their crafts to interested collectors.
The event has seen an increase in participating artists and a growing number of visitors and collectors each year. Now in its sixth year, the enthusiasm for the arts of our remote and beautiful northern New Mexico is palpable!
Questa and its environs have a long history of creativity born of necessity during its isolated history, and by inspiration from the dramatic variety of its surrounding lands. Questa is one in a long string of small Hispanic villages scattered up the Rio Grande from what is now Mexico into southern Colorado during the 18th and 19th centuries. Located 30 miles north of Taos, we were historically a remote and rough place to live.
More recently, many of these surrounding mountains and river gorges have become protected as public lands. Traditional lifeways are now being preserved, and offer the visitor many options for exploration and education. Our painters certainly love their backyard scenery and look forward to sharing this with you.
2019's Tour greeted visitors from not just Questa and Taos County, but towns and cities throughout New Mexico, as well as out-of-state visitors – from Colorado, Texas, Arizona, plus much further afield.
Our tours promise an even richer experience all around! Due to the rough terrain leading to many of our artists' studios, we offer several easy-to-reach hubs where groups of artists and craftspeople display their work in one location. Additionally, some of these remotely located artists join their neighbors at home studios already on the tour map.
A unique feature of the Questa Studio Art Tour is the inclusion of the beautifully restored San Antonio de Padua church. This adobe structure on the location of our historic plaza is an exhibition stop on the tour. It illustrates the continuing devotion of area wood-carvers, metal-workers, retablo painters, and stained-glass designers. The stained glass windows were produced at the Questa Stained Glass Studio. (Find it in the back of the CarQuest Auto Parts Store.) You may be walking a portion of the new Questa History Trail as you locate the church plaza, and can enjoy the informative signage along the half-mile walking loop in our downtown.
For lunch, many of our hubs will be serving food, as well as the Questa Farmers Market (open on Saturday) with traditional, gluten-free, and healthful options. You might also find a food truck or two; Tacos y Mas and Bubba's BBQ are local favorites.
After viewing beautiful art and fine crafts, visitors can plan time to immerse themselves in our dramatic scenery! The Wild Rivers Recreation Area of the Rio Grande del Norte National Monument is a stunning place to hike and camp, located just north of Questa. Lakes and meadows of the Carson National Forest overlook our village.
Come discover this remote and artistic corner of Taos County!